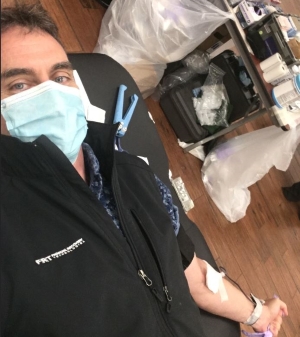 I want to thank all of you who have pledged so far. I know they say every year is critical, but I think 2020 has refined that definition. Please email or Teams me successes (and attempts) like the one above. Thank you, Brendan Quinn, for honoring your pledge and making a difference!
Many of you will also learn why it's so important that we get as many pledges as possible. I know at least one of you has already been turned away, which happens often every drive. Maybe on that particular day your iron was too low, or your blood pressure was too high. Maybe you lived in a disqualifying country. Giving blood is harder for some people, which makes it all the more important for the rest of us.
During the week I never get any sign ups. People forget. People are busy. I get it. But when I announce it at the MMM, I always get 3-5 signups within the hour. I mention this because you can really help me remind people. Bug them in Teams. Mention it at the end of a meeting. Just plant that seed when they don't usually hear it.
The Red Cross has an added bonus going on now that runs through 12/15. See the link below for what you're eligible for if you schedule your appointment between now and then!
https://www.redcrossblood.org/local-homepage/events/your-chance-to-win-an-outdoor-living-experience-.html
Many thanks again to all of you for making a difference!